April 27 Photo Field Trip
7:45 a.m. Leave Legacy
8:30 Tour Bishop Arts District
We are 1976, Shops, Murals
10:30 Clyde Warren Park, Nasher Sculpture Center, Museum of Art, Games
Lunch (food trucks)
2:15 Meet to leave for school
3:15 Arrive back at Legacy
THE BISHOP ARTS DISTRICT
Location: West of I35 in Oak Cliff
Price: FREE (unless you spend money)
When: It exists always.
A day, an afternoon, or an evening spent walking around the Bishop Arts District is a day well wasted. It's also free… to walk around. There are so many interesting shops, bars, restaurants, as well as great people watching, however, you're probably definitely going to want to shell out for a little piece of the "Williamsburg of Dallas".
Check out the list of shops.
WATERFALLS AT FOUNTAIN PLACE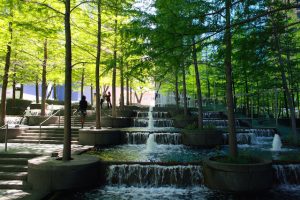 Location: 1445 Ross Avenue in Downtown
Price: FREE
When: All day long
At the base of Fountain Place (the iconic prism shaped building in Downtown) there is a spectacular water garden featuring over 350 fountain heads and multiple pools that sit in the shade provided by the many Cyprus trees that grow out of the pools that surround the building. If you are walking around Downtown Dallas and need a place to cool down, this is a perfect place to do it. Go grab some lunch at one of the food trucks parked nearby and enjoy it in the shade next to the fountains.
KLYDE WARREN PARK
Location: 2012 Woodall Roger
s Fwy
Price: FREE
When: 6am-11pm daily
It's a huge park over a huge freeway. With WIFI.  What!?!? But it's so much more than a park with WIFI over a highway. With a gastropub, a dog park, a children's playground, and live music on the stage every Thursday, it's a great way to enjoy being outside in the middle of Downtown Dallas.
CLICK HERE to see the food truck schedule.